Caleb Love is not a fan of in-class presentations.
But two months into his junior year, Love's distress for public speaking came to a head during a Climate Change presentation in November for his Public Policy course. 
"I just feel like I'm being looked at, but I got through it," he told SLAM over the phone from Chapel Hill later that afternoon. 
Whether he's become accustomed to it or not, from the classroom to the hardwood, all eyes will be on the North Carolina point guard this season. 
Yet seven months ago, the St. Louis native was faced with one of the biggest decisions of his life while sitting with the sour taste left behind from their Championship loss to Kansas. It took a total of 20 days for Love to come to the decision that his story was still being written. 
"Once we lost in the national championship, I went through that process of mainly just thinking about the loss and hurting about the loss," Love said. "I just felt like talking to my parents and then talking to my mentors and guys that I look up to, everybody just felt like it was best for me to just come back and improve on what I need to improve on."
RJ Davis, Armando Bacot and Leaky Black's decision to return might have helped just a bit too. 
Love will be the first to tell you that his freshman shooting percentages were far below his expectations– 31.6 percent from the field followed by 37.1 percent in his sophomore campaign. The leap in improvement was made from beyond the arc, knocking down an additional 59 threes on 36 percent shooting in his second season rocking the University Blue. 
But shooting ain't just about repetition and getting in your daily makes every morning. It's flying out to LA for the summer to work on balance, shot creation and confidence with Drew Hanlen. You know, the dude that's explored and expanded the games of Jayson Tatum, Joel Embiid, Zach Lavine and Bradley Beal – just to name a few. 
"I texted him, 'Man I need you,' and he was like 'I'm here for you.' So I flew out to LA, and he already knew exactly what I needed. It was crazy because we didn't do anything really intense, it was just mainly foundation and building up my confidence throughout the workouts," Love told SLAM. 
Those same 'tween, 'tween step-backs that Love employs every game were repeated hundreds upon hundreds of times amidst the thick air in hot LA gyms. Leaning back less on jumpers and raising his release. Minor tweaks, yes. But consistent reps can build quite the mental fortitude.
Adding counters to his favorite move through hesi's and in and outs, Love's tempo on the court feels like the high hats and percussive piano keys behind Lil Baby's Danger;  a well-paced chaotic wonder.  
"He actually said, 'Stop moving like a white boy,' because I was stiff with my dribbles and my movements. He was like, 'just loosen up a little bit, get a rhythm into it," Love told SLAM.
With Hanlen constantly throwing out words of affirmation, a summer in LA has seen Love rediscover the rhythm that makes #3 so lethal.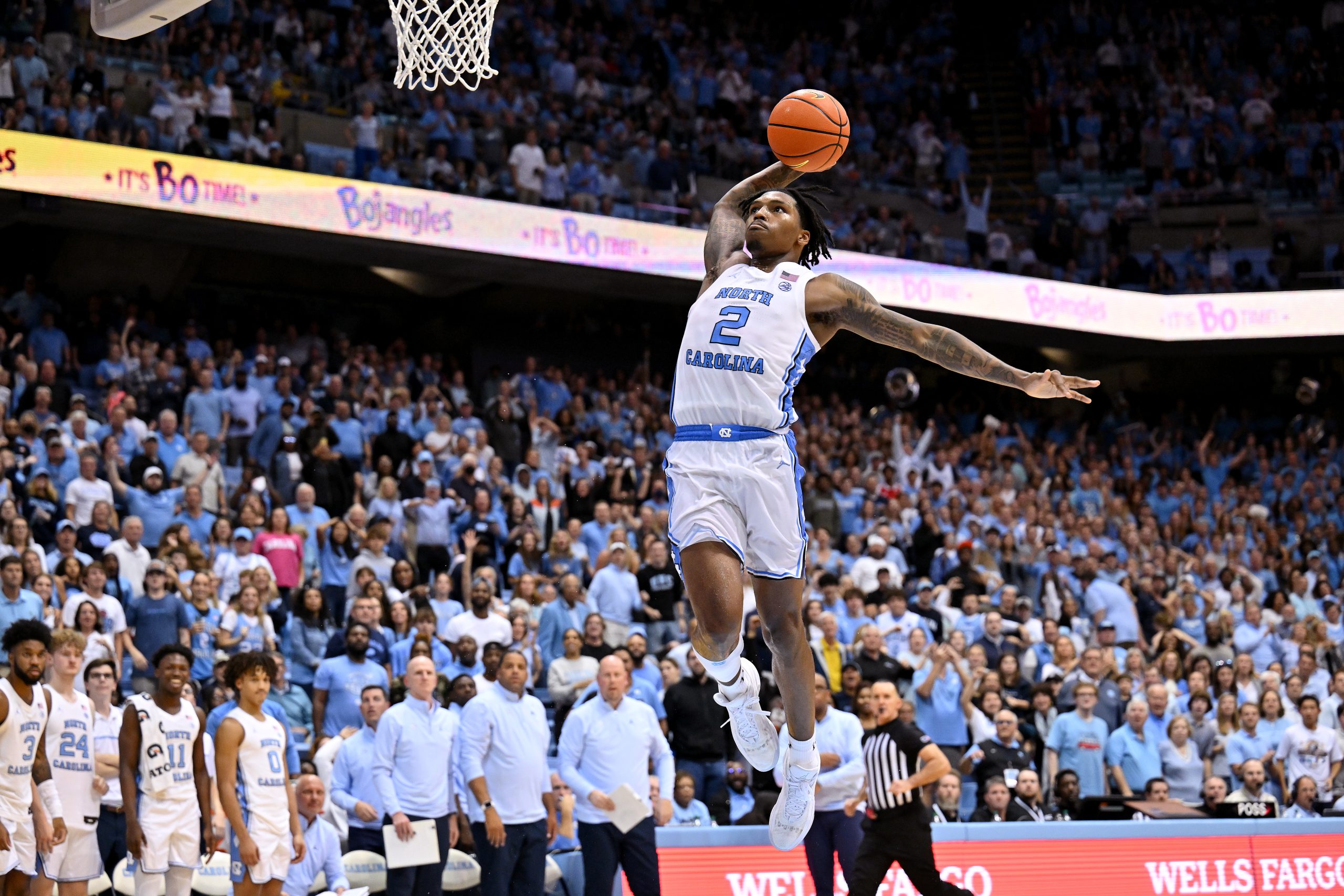 While Tar Heel nation is still in awe of the 6'4 guard's pull-up three that put the lid on Duke's Final Four run and Coach K's farewell to the collegiate game, that pesky three-point loss in April has fueled "the most important offseason in my career." 
"I feel like, my confidence is all the way back now," Love told SLAM."This was the most important (off-season) because not only did I have my mind set on improving everything as far as basketball, but improving myself as well. My energy, being more mature, putting everything in perspective as far as me as a person, and growing as a person."
That confidence stretches to his relationship with second-year head coach Hubert Davis. 
"The biggest thing is having a coach that believes in you. When you got that, you feel like you can do anything, especially on the court," Love said. "Honestly, the biggest thing I take away from him is, he always helps me be better than what I think I am."
While he was a part of Roy Williams' final recruiting class, Love's role as an extension of Davis' teachings on the court has proffered a whole new dynamic for the two. Sending the former Tar Heel, now head honcho plays from around the League, constant communication has infused the recent 1,000-point scorer with a whole new energy. 
Cue a historic run in March and shot for the ages, that 'I'm better than anyone you put on me' mentality from his Christian Brothers days has been reinvigorated. 
"And now, I just feel like I'm back," Love told SLAM. 
---
Photos via Getty Images.
Credit : Source link