The Blue Jays announced that they have acquired outfielder Daulton Varsho from the Diamondbacks. Going the other way will be catching prospect Gabriel Moreno and outfielder Lourdes Gurriel Jr..
For the Blue Jays, they've long been looking to add a left-handed complement to their right-handed heavy lineup. They've also been rumored all offseason to be willing to deal from their catching surplus in order to address other areas of their roster. With Danny Jansen, Alejandro Kirk and Moreno all jockeying for playing time, it seemed like they would use one of them to line up a deal with a catching-needy team. The Diamondbacks, meanwhile, have drawn much trade interest this offseason on their multiple outfielders. Corbin Carroll, Alek Thomas, Jake McCarthy and Varsho are all left-handed and have various attributes, but it made for a logjam that many expected to be cleared via trade. Given those factors, the two teams have been frequently made for speculative trade partners, which has come to fruition with this deal.
Varsho, 26, was a top 100 prospect in the minors and debuted for the Diamondbacks in 2020. Though he was primarily a catcher, his natural athleticism has pushed him into more of an outfield role recently. It was reported towards the end of the 2022 campaign that the Diamondbacks were so impressed by his outfield work that they were planning to keep him there going forward. That was a fairly sensible conclusion to draw given his excellent defensive grades on the grass. He was given a +19 from Defensive Runs Saved in the outfield this year, along with an 18.8 from Ultimate Zone Rating and 17 Outs Above Average. All three of those figures were tops among all MLB outfielders this year, with the DRS tally tied with Michael A. Taylor. Varsho has seen time at all three outfield positions in his time in the big leagues thus far, giving the Jays plenty of flexibility in how he fits into their alignments.
The Blue Jays have largely been focused on run prevention this offseason, adding Chris Bassitt to their rotation, Erik Swanson to their bullpen and defensive specialist Kevin Kiermaier to their outfield. Now with Varsho, they've continued down that run prevention path by adding the best defensive outfielder of 2022. Varsho isn't merely limited to being a glove-only contributor, however. He hit 27 home runs this year and stole 16 bases. He finished the season with a .235/.302/.443 batting line, good enough for a wRC+ of 106, indicating he was 6% above league average. Those contributions put together amounted to 4.6 wins above replacement for the year, per the calculations of FanGraphs.
This move, and their other moves this offseason, have resulted in righties Gurriel and Teoscar Hernández being swapped out for lefties Kiermaier and Varsho. Gurriel and Hernandez are more productive at the plate but both are generally regarded as subpar defenders, while Kiermaier and Varsho are generally the inverse, though Varsho took a big step forward at the plate this year. Varsho and Kiermaier should slot into an outfield mix that also includes George Springer and Whit Merrifield. While last year's alignment saw Springer as the top defensive option, flanked by two bat-first teammates, he now seems like the third best defender in Toronto's outfield mix.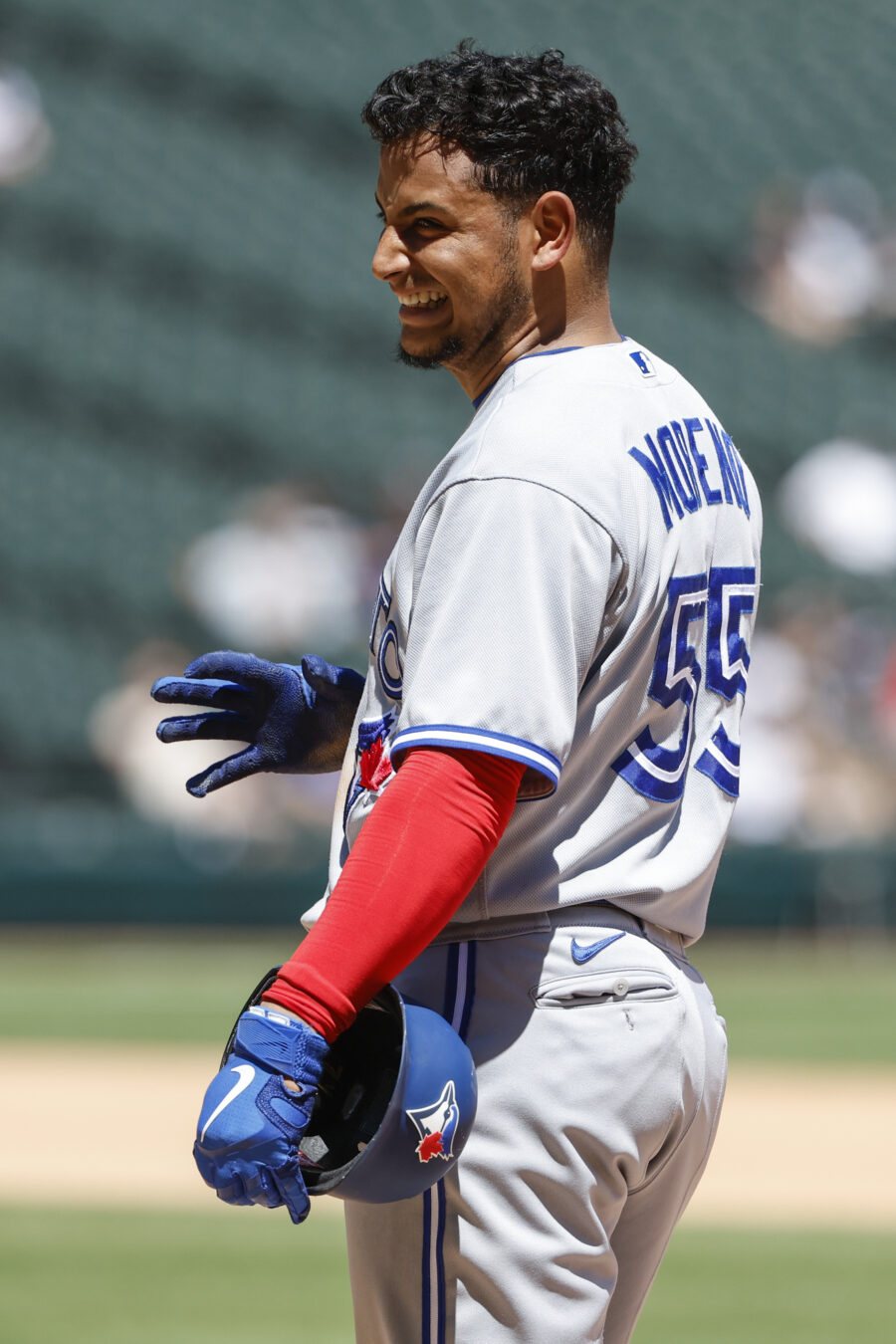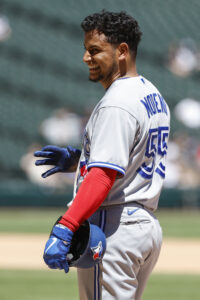 For the Diamondbacks, they are acquiring one of the top prospects in the sport, regardless of position, but certainly one of the top catching prospects. Moreno, 23 in February, is considered the No. 3 prospect in the game by both Baseball America and FanGraphs. He made his MLB debut in 2022 and carried himself well in over his first 73 plate appearances, hitting .319/.356/.377 for a wRC+ of 113. Spending most of the year in Triple-A, he hit .315/.386/.420 for a wRC+ of 120. Though the power part of his game could be lacking, all reports point to him being an excellent defender who has keen bat-to-ball skills. That's borne out by his 16.9% strikeout rate in Triple-A this year and 11% rate in his MLB debut.
The club has used Carson Kelly, 28, as its primary catcher over the past four seasons, who has proved inconsistent in that time. His 2019 and 2021 seasons were both above average at the plate, as he hit double-digit home runs and walk rates, leading to a wRC+ of 107 in the former and 103 in the latter. However, his 2020 and 2022 seasons were on the low side, with the walks and the power both dipping. He posted a wRC+ of 70 in 2020 and just 73 in 2022. Defensively, he's generally considered around average, with DRS have graded him at exactly zero thus far in his career.
Kelly still has two years of arbitration control remaining and likely has the catching job for now, given Moreno's youth and limited experience. Moreno will also require some time to get to know Arizona's pitching staff. But as Moreno continues to develop, it's possible that Kelly will get squeezed out in time and become a trade chip himself before he reaches the open market.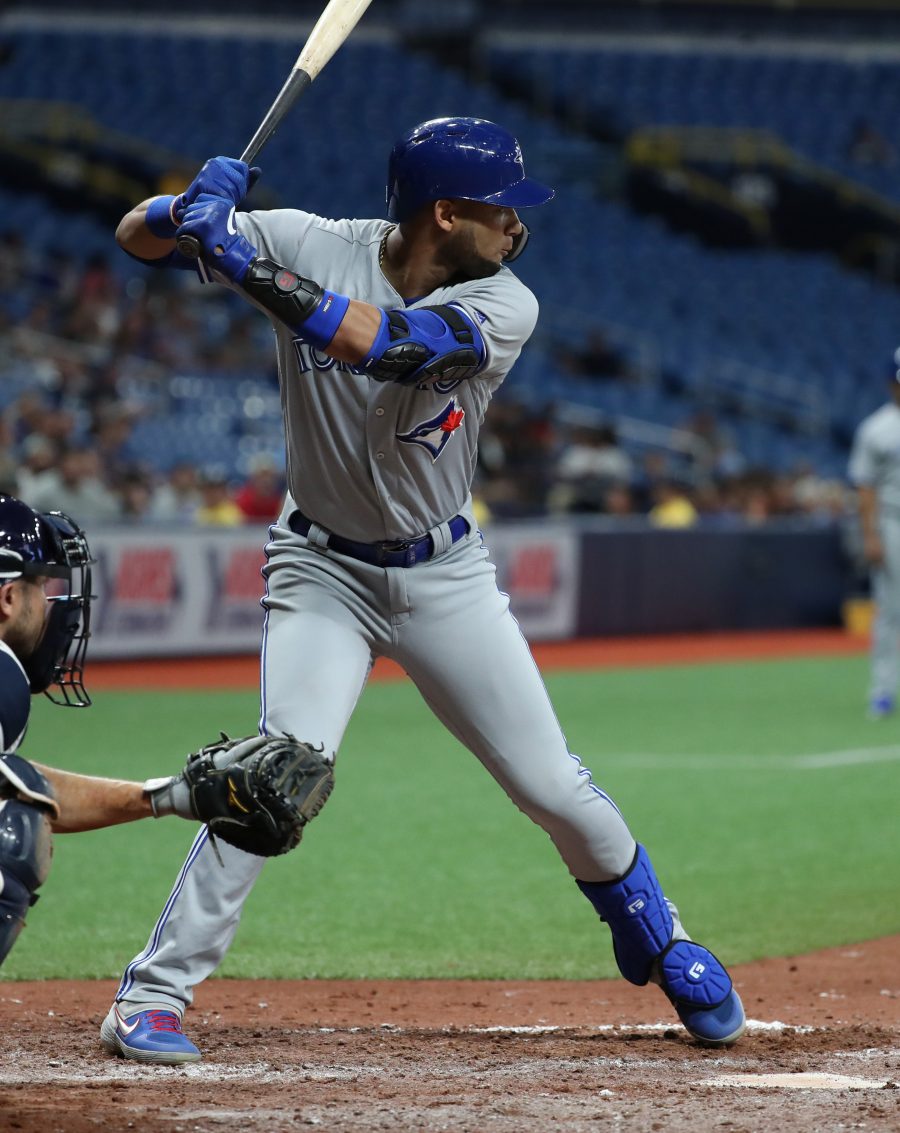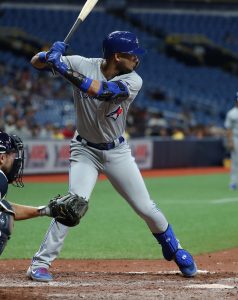 As they subtract from their multitude of left-handed hitting outfielders, the Diamondbacks are bringing in a right-hander for more balance in Gurriel. The 29-year-old has spent the past five seasons with the Jays and has a career batting line of .285/.329/.468 and a wRC+ of 115. He doesn't come with a noticeable platoon split, as he has an even 115 wRC+ against both righties and lefties. That makes him perfectly capable of playing every day for the Snakes. He is in his final year of control before becoming a free agent, which doesn't make him a long-term solution in the desert, but he should give the club some time to continue to evaluate young players like Carroll and Thomas. If those younger players take steps forward and command everyday jobs and/or the Diamondbacks aren't in contention in the middle of 2023, Gurriel would make for an intriguing trade candidate.
Defensively, Gurriel broke in as an infielder but was moved to left field in 2019 and has largely been there since, apart from the occasional turn at first base. Reviews on his glovework are mixed, as he has a +4 in the outfield from DRS, but a -4.7 from UZR and a -16 OAA. That limits his contributions somewhat but his bat has been above average in each of his five seasons thus far.
Financially, the Jays will be saving a bit of money on this deal as Gurriel will be making $5.4MM in 2023, his final year before free agency. Varsho, meanwhile, has four years of control remaining but has qualified for arbitration this winter as a Super Two player. He just squeaked in on that one, as his two years and 128 days of service time are an exact match for this year's cutoff. He's projected for a salary of $2.8MM by MLBTR contributor Matt Swartz and will get three further arb raises through 2026. Moreno, meanwhile, has yet to reach arbitration with just a couple of months of time in the big leagues thus far, giving the Diamondbacks six further years of control over his services.
The slight financial difference won't matter much to the Diamondbacks but could have ramifications for the Jays. Roster Resource currently pegs the club's competitive balance tax figure as just a hair over the lowest luxury tax threshold of $233MM. Those numbers are unofficial and will surely change with future moves throughout the offseason and during the actual season. The arbitration salaries are also just estimates and will have an impact on the tally once they are cemented. But if the Jays continue to hover right around the luxury tax line, the small savings could determine which side of that line they finish on.
In the end, both clubs addressed their needs by dealing from positions of strength. The Jays acquired an all-around player in Varsho who can help them this year and in the future. In order to do so, they've subtracted from their prospect capital and catching surplus, as well as dealing an impending free agent in Gurriel. For the Diamondbacks, they've sent out a solid contributor but should still have a great outfield without him, and they've also loaded their farm for future success. They now have four of the top 20 prospects in baseball, with Moreno at #3 at Baseball America, followed by Carroll at #5, shortstop Jordan Lawlar at #11 and outfielder Druw Jones at #19.
Jon Heyman of The New York Post first reported that the Jays were close to landing Varsho. Jeff Passan of ESPN first reported a deal was in place that involved Varsho and Moreno. Bob Nightengale of USA Today first had the involvement of Gurriel.
Images courtesy of USA Today Sports.
Credit : Source link